The fabulous Ms. P gave me this when my dining room was still red. She was going to put it in a garage sale, so I snapped it up. Since then the dining room has been finished (mostly) and I am making plans to re-vamp the office space.
Hubs and I both need office space at home, and we have a ridiculous amount of crap equipment. There are seriously more computers in this house than there are people.
So the wheels creaked to life & I envisioned a plan for this picture, and started pulling it apart.
I cut a piece of wood to fit in the middle where the picture of the flowers was and broke out the chalkboard paint!!!
I may be obsessed with chalkboard & spray paint... Is there a twelve step program for that?
I just used the matt in the frame, but was totally unsure if it would work or not.....
I sprayed it with magnetic spray paint. Now let me say, I was totally unaware that this stuff existed until recently. Crazy!! I know. I sprinted to Hobby Lobby to get myself some the minute I heard about it. Where have I been!!!!
I will have to say that it did not totally work as well as I had envisioned. But again, this was my fault. I was so excited about it that I jumped right in. It wasn't until SEVERAL a million coats later that I read the directions. I know, tsk, tsk.
It didn't seem to be getting all "magnet-y" like I expected it would. Read the directions people (insert Brandy) they are there for a reason. So what's it say in the directions..... "do not use in extreme humidity." Hmmm.... Brandy scratched her head and looked around. This is August in the south, humidity has moved in for the duration. Like a relative who over stays his welcome. The humidity won't break here until sometime in October, or maybe never.
So did I stop? Psshaw!! Of course not. I used the ENTIRE can on this baby. Is it magnetic? Yes. Is it as magnetic as it should be after an entire can? No. Can I live with that? For now.
While waiting for the chalkboard and magnetic paint to dry, I spray painted both of the frames white.
Spray paint has always been around the house for one reason or another. But I swear in the last few months I feel like have discovered the Holy Grail. I. Love. This. Stuff.
Everything old is new again.
Once every thing was dry I reassembled my FREE frame!! I added some little canisters with magnets from Walmart ($2.88 for a package of 2). Once the office comes together I will have a chalkboard and a handy dandy paperclip, etc. storage space.
I painted over the magnetic spray paint. Which the directions said was okay to do...... I used the same paint as the wall color in the office.
I was so excited when I finished it that I took a picture with my phone and texted it to Hubs. He's gone a business trip and I just didn't want to wait a whole week to dazzle him with my craftiness. So the message on the board was for him.
I was just too lazy to take another picture.
Happy Friday!!!!
linking up to: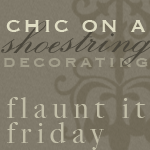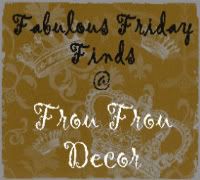 Debbiedoos
Decormamma