Get!!! Out!!!
I've been blogging less than a month. My tutorials need work, because I've never thought to explain how I do things. I'm kind of a "make it up" as you go along gal. Lot's of my projects don't "work" the way I had planned. So I tweak them until I'm happy with them. My picture/ staging skills need work. I have a LOT to learn. But I am super excited ....
My new
buffet
been featured on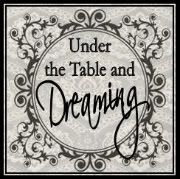 I squeaked when I saw it. Literally!
Good thing no one else was home to see that. My sudden squeal did send the guard puppies into fits of barking
See their standing by to protect me at a moments notice.....
I am quite blown away to have a project featured anywhere. Especially when I stroll through blogland every day and see all the amazing women showing off amazing finds, crafts and creations everyday. I am a newbie to blogging and seeing all the ideas out there has really inspired me.
Stop by
Under The Table & Dreaming
to see all the amazing projects. Looking at the others, mine looks kind of sad. I haven't decorated it yet. I was so stinking excited to be done with it..... I just couldn't be bothered to dress her up first, but those pictures will be coming soon.