I've been cruisin' the local Goodwill, Salvation Army and other thrift stores. I have a job that keeps me on the road, so it's super easy to hit these places between appointments. It's hit or miss, but I've come away with some stuff this month that I am in LURVE with.
This tin try was $1.99 AND it still have the Kirklands price tag on it!!!! Originally $12.99
SCORE!!!
It was filthy!!!! A little cleaning and some spray paint, it will be perfect in the dining room!
Cute little frame for .99
Have no plans for this baby yet, but it will be super cute some where.
Another .99 frame this ones getting spray painted white for the dining room!!!
This little ring/ jewelry caddy was also .99
I just thought it was so cute.
I've been looking for baskets, hate paying full price for baskets. I love baskets.....
No luck finding the right size & shape so far, at least none that are in decent shape.
Linking up to: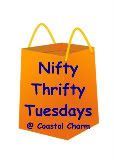 href="http://www.debbie-debbiedoos.blogspot.com/">
>